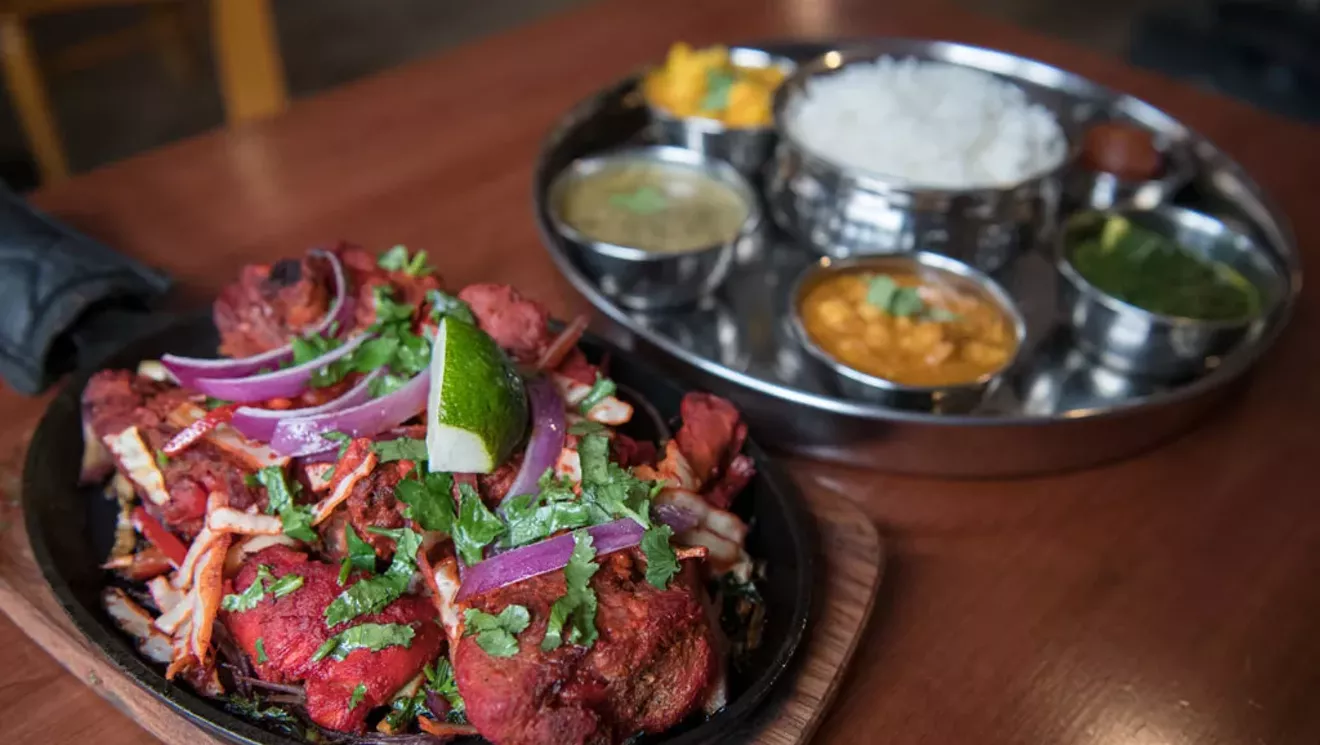 Four Newish Restaurants Bring World Flavors to Chittenden County | Food + Drink Features | Seven Days
As the Seven Days food team reflected on the state of Vermont's dining scene at the end of 2022, one of the unexpected highlights was an explosion of global cuisines. In a state where farm-to-table tends to drive the conversation — and where we have wood-fired pizza coming out of our ears — a new wave of Afghan, Argentinian, Bosnian, Colombian, Dominican, Filipino, Haitian, Indian, Iranian, Iraqi, Jamaican-British, Korean, Mexican, Puerto Rican, Somali and Taiwanese pop-ups, food carts, market vendors and restaurants is more than welcome.
Now that we've settled into 2023, we headed out to four newish brick-and-mortar spots that bring flavors from around the world to Chittenden County, including two that are right next door to each other in Essex Junction. We didn't even need our passports.
— J.B.
---
Flavors in Bloom
Laliguras Indian-Nepali Restaurant
On a recent Monday around 3:30 p.m., a trio sat down for a late lunch at Laliguras Indian-Nepali Restaurant on the Church Street Marketplace. Following the advice of manager Dhruba Lamsal, the party of architecture students on a day trip from Québec ordered two of the Nepali specialties on the menu: vegetable thukpa noodle soup ($10.99) and vegetarian momos ($10.99).
They said the soup and the dumplings, served with a lightly spicy and sweet dipping sauce, were new to them and very satisfying. "As good as anything in Montréal," Victor Rifiorati enthused.
"The broth is like nothing I've ever had," Saz Szatmári said as she spooned up her soup. "It's the perfect amount of spicy."
The visitors were exactly the type of customers co-owners and brothers Raj and Kabi Adhikari were hoping to attract when they opened Laliguras last June in the downtown restaurant previously occupied by the Rusty Scuffer.
"We have a lot of traffic here, a lot of people who are coming to see the town, walking around," Raj, 30, said. "And they find the restaurant."
Originally from Bhutan, the Adhikari family spent years in Nepalese refugee camps before arriving in Vermont in 2011. The brothers worked in a number of area restaurants before launching Laliguras, which they named for the red rhododendron, the national flower of Nepal.
While Raj chatted about the restaurant, his two young sons sat in the booth beside him, crunching happily on the cumin seed-speckled papadum crackers that each table receives upon sitting.
Lamsal brought out a sizzling pan of tandoori chicken ($17.99) strewn with cilantro on a bed of frizzled cabbage, carrots and onion. Jace Adhikari, age 4.5, could hardly restrain himself from sneaking a piece of the almost luminously crimson charred and spice-rubbed bone-in meat that emanated mouthwatering scents mere inches from his face.
The moist, tender chicken is prepared by a kitchen team that includes Raj; Lamsal's wife, Sabu; and Krishna Bhattarai. Lamsal runs the dining room smoothly, even when juggling a full house almost single-handed. He counseled my table of five on a recent Saturday evening to order the chicken momos ($11.99 for 10) steamed, not fried.
Among the many momos now available in the Burlington area, these stood out for their thin, almost translucent skin. We also particularly enjoyed the flaky paratha bread ($2.99) and malai kofta ($14.99). These vegetarian balls were a toothsome and texturally pleasant combination of cashew, carrot, paneer and potatoes simmered in the same creamy, tomatoey sauce used in chicken tikka masala ($15.99), which Lamsal said is a customer favorite.
Diners who don't yet have a go-to dish should try the vegetable or meat thali ($19.99 or $20.99), which is essentially a tasting menu. The mix varies daily, Lamsal said. Our vegetable thali included small bowls of dal makhani (spiced black lentils), saag paneer (spinach with paneer cheese), aloo gobi (cauliflower and potato curry), chana masala (curried chickpeas), and white rice, plus a chile-spiked pickle and a single sweet gulab jamun ball. The meat option includes a dal, a vegetable curry, chicken tikka masala and the diner's choice of a meat curry.
Any one of these could be your new favorite Laliguras order.
— M.P.
---
Filipino Fusion
Nagueños Filipino American Diner
34 Park St., Suite 8, Essex Junction, 871-5363, naguenosfilamdiner.com
Making friends as an adult is hard. Making friends who will let you choose the restaurant, split everything on the menu and insist on dessert? Practically impossible.
But I got lucky in the new friend department, because that's precisely what happened on a "friend first date" at Nagueños Filipino American Diner. Trying out the Essex Junction spot was all my idea, and we dove into a slew of shared plates. My new pal Jamie suggested leche flan for dessert, sealing the deal.
Jerrymay and Paul Lopez and Emma and JR Perez opened Nagueños in the former Heart n Soul by Mark BBQ location in mid-December. Their unique menu combines traditional dishes from the Philippines — where JR, Paul and Jerrymay grew up and earned degrees in hotel and restaurant management before moving to the U.S. — with American classics such as chef's salad, burgers and Philly cheesesteak. In classic Vermont fashion, they're using as many local ingredients as possible.
"We want to give people good-quality food with a twist of our Filipino culture," JR told Seven Days ahead of the restaurant's opening. "And we want to give people in Vermont something that they've never tried before."
On a recent Thursday evening, Jamie and I joined a few other groups of diners in the small restaurant as a steady stream of customers picked up takeout. (Nagueños does not yet offer delivery, but it's in the works.) We excitedly debated how many dishes were too many, deciding on both sweet potato ($6) and pork ($8) lumpia (fried spring rolls), along with palabok ($15) from the merienda (snack) menu, Bacolod chicken Inasal ($16), and tortang talong ($15).
The menu will change a bit in the spring, Paul said, so that Nagueños can give its customers even more dishes to try. For now, the lumpia and Bacolod chicken Inasal are among the most popular dishes, along with Bicol Express, a spicy pork stew from Paul and JR's home region.
Bacolod chicken Inasal is named for a restaurant chain founded in Jerrymay's native city and its namesake dish: grilled chicken skewers marinated in vinegar and spices, then served with atchara, pickled green papaya. We opted to upgrade to garlic rice ($2 extra), which added an extra punch to the already flavorful dish.
Palabok, which translates loosely to "sauce," is a rice noodle stir-fry coated in a rich bacon, garlic and shrimp sauce. The ample plate was more than my idea of a snack, but it made great lunch leftovers along with the remnants of tortang talong — fritters made from whole eggplant dipped in eggy batter.
We managed to eat a luscious slice of leche flan ($6) before we admitted how full we were. The custardy, caramel-topped dessert was an ideal ending to a fun meal.
"You have to tell people to come here for the flan," Jamie said on our way out. From my new friend's lips to your ears.
— J.B.
---
Vegetarian Vision
Namaste Garden
34 Park St., Suite 11, Essex Junction, 764-0767, namastegardenvt.com
The past few months have been exciting in the Essex Junction food scene. With an influx of development, demand for food and drink has grown. And businesses such as Nagueños and vegetarian Indian spot Namaste Garden — which opened last September — are meeting it deliciously.
Boxcar Bakery co-owner Stacey Daley, whose neighboring biz opened just after Namaste Garden, summed it up perfectly: "Essex Junction is blowing up."
I'd heard only good things about Namaste Garden since it launched in the former Food Bar location. After a chilly Sunday sap boil, I headed over to check it out and warm up with a bit of spice.
My husband and I were the only two dining in the restaurant when we arrived in the early evening. It was turning into a snowy night, not ideal for dining out, but the door kept swinging open with customers grabbing takeout and delivery drivers picking up DoorDash, Uber Eats and Seamless orders.
Co-owner Sharandeep Matri admitted to having been nervous about opening a fully vegetarian restaurant with vegan options. "We didn't know how the community will support us, because, you know, no meat. People love meat," she said with a laugh. "But our business is doing wonderfully."
As we considered the lengthy menu, I temporarily forgot that Namaste Garden was "no meat." We settled on appetizers I'd order at any Indian restaurant: aloo tikki (deep-fried potato and pea fritters, $4.99) and samosa chaat (a north Indian street food dish of crispy samosas topped with chickpeas, onion, yogurt and tangy sauces, $6.99).
I was thrilled to see the South Indian section of the menu. My sister-in-law is from Hyderabad and often cooks South Indian staples such as masala dosa and idli sambar, but they're a rare treat in Chittenden County's predominantly North Indian and Himalayan restaurants. Namaste Garden was out of the fermented lentil-and-rice dosa batter for the evening, so I opted for the idli ($8.99). The pillowy, steamed cakes are typically a breakfast dish, but I didn't care what time of day it was as I dipped them in the rich sambar (a veggie and lentil stew).
The vegetarian curry section of the menu was packed with intriguing options, but we settled on a takeout classic: paneer masala ($12.99). Big chunks of soft, homemade cheese floated in the creamy tomato base; I mopped them up with the most garlicky garlic naan I've ever had. We'd opted for medium spice on all our dishes, and each was spot-on.
At the end of the meal, I walked over to peruse the fully stocked sweets counter, loaded with traditional items such as ladoo and coconut cham-cham, all made in-house. I left with a container of spherical gram-flour ladoo, fudge-like chocolate barfi and golden kesar peda, made from milk, sugar, cardamom and saffron. I'm saving the hot gulab jamun for next time.
"People see all the sweets and appreciate that we bring something new to the community, to the state," Matri said. "They eat them for dessert, and then they want us to pack a box to take for their family."
— J.B.
---
Taste of Home
Bamyan Kebab House
It's been a slow and rocky road for first-time restaurant owners and brothers Awran and Wazirgul Hashimi. Last June they opened Bamyan Kebab House in the Winooski spot vacated by Shafer's Market & Deli. After about a month of serving up grilled kebabs over spiced rice and a flaky, fried bread stuffed with scallions and greens called bolani, Bamyan had to close temporarily due to a lack of kitchen staff and problems with the supply chain for necessary cooking equipment.
Finally, with a new chef team, a working open-flame grill and a formal reopening planned for this week, there is light at the end of the tunnel — an appropriate metaphor for a restaurant whose name means "shining light." That's also the name of the Hashimis' native province in Afghanistan and its capital city.
As Seven Days previously reported, Awran, now 30, came to Poultney from Afghanistan in 2011 with a U.S. government-sponsored student exchange program. He stayed to attend the now-closed Green Mountain College, after which he earned a master's degree in human resources and strategic management from the University of Denver. His younger brother, Wazirgul, joined him in the U.S., initially on a student visa.
The pair didn't originally aspire to become restaurateurs, but after Vermont welcomed a number of refugees from Afghanistan, Awran recalled, "We decided to open this space as a social space for them to get connected, to feel closer to home, as well as to introduce Afghan culture to Vermonters."
The new chef, Raouf Khan, cooked at Bamyan in early February before returning to Virginia to bring his family to Vermont. He and another chef originally from Afghanistan will offer a menu featuring halal meats in dishes such as Qabuli palao: stewed lamb or beef on rice spiced with garam masala, saffron, cardamom and cinnamon ($23). Lamb chops marinated in olive oil and lemon juice will be seasoned with rosemary, thyme, oregano and garlic and served with rice and flatbread ($25). Chicken, beef or minced lamb kebabs will be served with rice ($21 to $25), and stews of beef or lamb will be braised tender with housemade yogurt, tomatoes, onions and chile powder ($22).
Awran promised that mantu, the iconic Afghan dish of steamed, filled dumplings, will finally make it onto the menu.
Hurdles remain, including the difficulty of accessing some key ingredients. Lacking a trusted local source of halal meat, Awran said, "We go every week to Albany [N.Y.]."
But the young entrepreneur remains optimistic. Some refugees who originally resettled in Vermont from Afghanistan have left for warmer and more populous areas of the U.S., Awran said, but he is here to stay.
"I like the small city. The people are more friendly here, more supportive," he said. "You can communicate in a more human way."
— M.P.