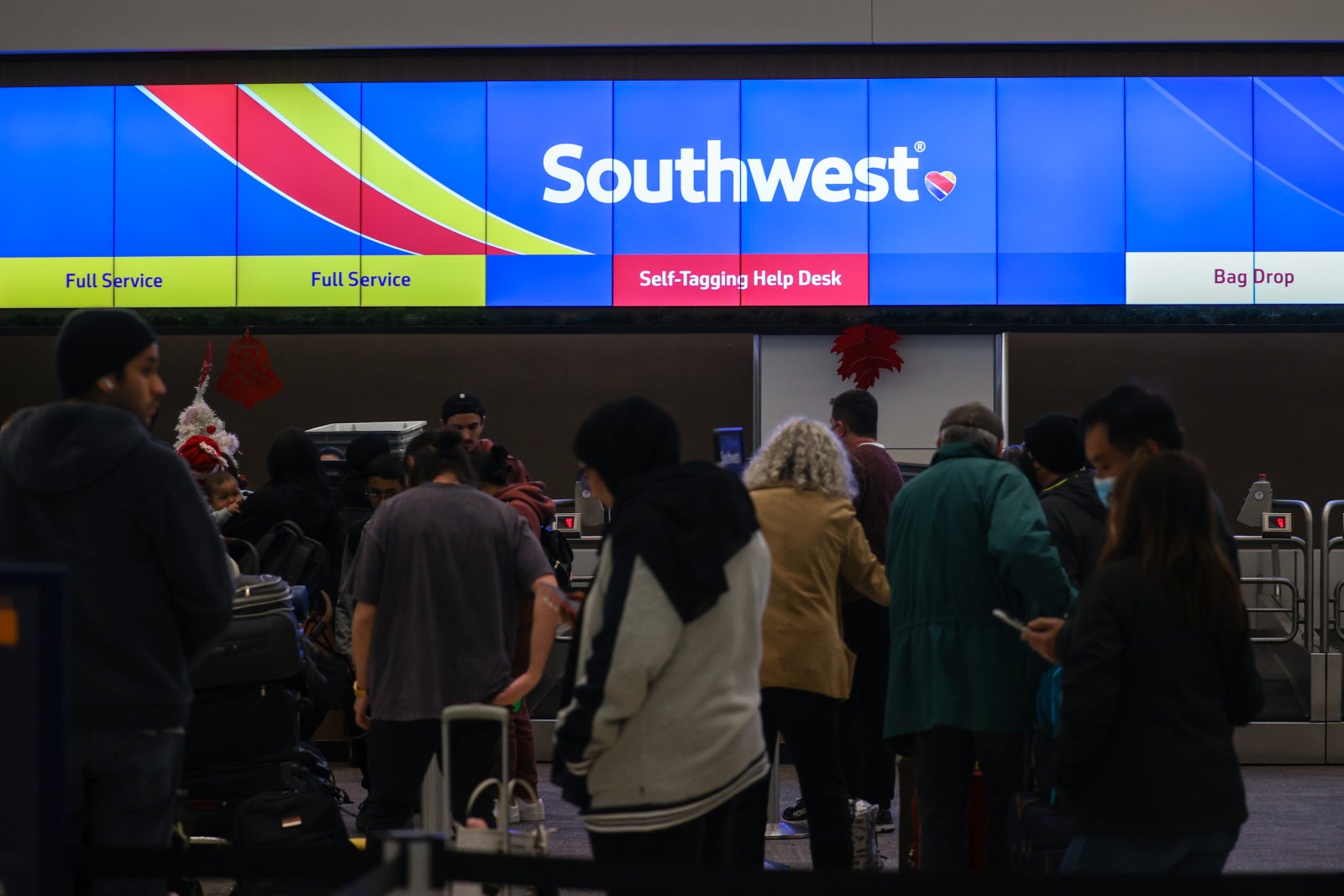 How I saved my vacation from Southwest's winter 2022 meltdown
I woke up on the Tuesday after Christmas blissfully unaware that my much-anticipated New Year's getaway was in jeopardy. After all, the weather in the greater Washington, D.C. area had been lovely and we were heading south. I'd heard about the storms in the Midwest and Christmas-week air travel problems, but that was all in the past.
Imagine my shock and surprise when I turned on my computer Tuesday morning to read on TPG that Southwest Airlines had not recovered from the air travel disruptions of the previous week and had canceled nearly two-thirds of its flights on Dec. 27 and 28. I was flying out early on Dec. 29, with a pre-flight park-sleep-fly hotel booked in Baltimore for the night before.
Was my flight going to be canceled, and would Southwest cancel it before I arrived at the airport at the crack of dawn? Should I preemptively cancel my plans and would that involve losing more or less money than gambling on my existing vacation?
Here's how I managed to salvage my winter getaway, with lessons learned that all holiday travelers may find useful.
I paid attention
I'm one of those people who really unplugs on PTO. I avoid the news, and I don't check social media or my work Slack messages as often as I normally do. Had I not been working the Tuesday before my trip, I might not have had any idea my flight was in jeopardy.
Lesson learned: Keep an eye on travel news (you can sign up for TPG emails for all the latest) in the time leading up to your vacation, so you'll know if problems are expected on your day of travel.
I did my research
Instead of proceeding as planned until Southwest canceled my flight, I did my own research to determine the likelihood of my travel plans being ruined.
First, I looked up Southwest's flight status tool. On Tuesday, it was only showing my flight's status for Monday through Wednesday. I couldn't see if my Thursday flight from Baltimore to Savannah, Georgia, was canceled (that information wouldn't be available on the flight status tool until at least Wednesday). However, I could see that the same flight had been canceled each day that week.
I also read up on the airline's ongoing meltdown and learned that Baltimore was one of the harder-hit airports. While I couldn't find information on how many flights were expected to be canceled on Thursday and Friday, I discovered that the airline's executives were predicting more cancelations would come; I also noticed the airline was not rebooking impacted travelers in the coming days.
Sign up for our daily newsletter
From those articles, I deduced that my flight had a good chance of getting canceled, and if it did, I would not be able to reschedule for the following day.
The problem was, I couldn't afford to wait until Wednesday to change my plans. Because I live nearly two hours from Baltimore/Washington International Thurgood Marshall Airport (BWI) and my flight was scheduled for 7:40 a.m., I had booked a hotel near the airport for Wednesday night. That way, we wouldn't have to drive to Baltimore in the wee hours of the morning and could leave our car at the hotel for the duration of the trip.
I needed to cancel that hotel reservation by 6 p.m. on Tuesday to avoid getting charged the full hotel rate.
Here's where I got creative. I had read about FlightAware, a flight-tracking app, on TPG. The free online version showed me that Southwest's flight from Baltimore to Savannah carries on to Nashville, Denver and Buffalo — meaning that planes and crew on this route could very well be stuck somewhere due to the storms. It also informed me that my Thursday flight was canceled.
I was surprised that FlightAware indicated that my flight was canceled when Southwest had not updated my reservation in its app or sent me an email. All I could see in the airline's app was that my flight might be impacted by winter storms and I could make a one-time reservation change for free.
When I tried to make a fake booking on my outbound flight on Southwest's website, it showed the entire flight as not available — though did not indicate whether that was because the flight was sold out or canceled.
Nervous, I texted my TPG colleague and friend Andrea Rotondo, who has the paid version of FlightAware. She confirmed on the app that my flight was canceled, and also double-confirmed it on another paid air travel information service, ExpertFlyer (owned by TPG's parent company, Red Ventures).
Lesson learned: Don't wait for the airline to alert you that your flight is canceled. Do your own research to determine if your flight is at risk.
I was proactive
Now I had a conundrum: My flight was almost certainly canceled, but I wouldn't be eligible for a refund if I canceled my flight before Southwest did. I had no idea when Southwest would tell me my flight was a no-go. After all, some Christmas flyers didn't find out about cancelations until they were at the airport and had already checked their bags (which they could not then get back).
My husband and I discussed it and agreed that in this case, peace of mind and saving our vacation were the most important considerations. We decided to go ahead with Plan B – turning our flying vacation into a road trip.
I canceled my Baltimore hotel with half an hour to spare before being charged and canceled my Savannah car rental, which I could do at any time before I picked up the car. We alerted my brother-in-law that we couldn't meet him at the Maryland Science Center on Wednesday as planned.
We debated splitting the drive over two days, but since there was nothing we wanted to see along I-95 in North Carolina or South Carolina, we resolved to complete the almost nine-hour drive in one day. I did some hotel research on TripAdvisor, and found a retro-chic motel on Tybee Island, near Savannah, with availability the following night at the right price. That way, we could spend the day at the beach before checking in to our Airbnb.
I learned that you can cancel a Southwest flight up until 10 minutes before departure and still receive flight credit. That let me play chicken with the airline for a while longer; if they didn't cancel first, I could always do it first thing Thursday morning.
As it happens, when I woke up Wednesday morning, my flight's status read as canceled. Bringing up the reservation on my app to supposedly check in showed the cancelation, as well. (However, it wouldn't let me request a refund, so I've filled out the online form and am waiting.)
Lesson learned: You don't necessarily want to wait for the airline to cancel your flight before coming up with and acting on a Plan B. It might be too late.
I was lucky
Ultimately, I was lucky that I was able to salvage my vacation. If my destination had not been within driving distance, I may or may not have been able to find and afford four tickets on another airline. Or, I could have been mid-trip and stranded with no way of getting home, forcing me to spend extra on an extended hotel stay and possibly miss days of work. I also found out about a potential cancelation in advance, rather than after I'd arrived at the airport and possibly checked a bag.
I was also lucky that I could cancel my hotel stay and car rental without penalty. Thankfully, I didn't need to cancel my vacation rental websites reservation; I had prepaid for it and since the cancelation period had passed, I would've lost the entire sum if I didn't show.
It helped that we were not meeting family or friends at our destination. We did not miss a potential last visit with grandma or anyone's special birthday celebration or wedding. Some others impacted by Southwest's meltdown lost out on once-in-a-lifetime experiences or meaningful family visits.
Lesson learned: Even with the best planning, sometimes you cannot save a vacation disrupted by weather, airline woes or other world events.
What I learned about winter travel
Despite my day of pre-vacation panic and rebooking, my family had an amazing time in Savannah. As it turned out, it was useful to have a car to explore Tybee Island, Bonaventure Cemetery and the Wormsloe Historic Site outside the city center. The car was a convenient place to store our luggage before we could check into our vacation rental and it allowed us to run errands when necessary.
However, the flight ordeal was a wake-up call into all that can go wrong and ruin a planned vacation, especially during the colder, snowier months. Here are my takeaways:
Consider refundable travel plans. I always look for the cheapest options, figuring "Why would I want to cancel my plans?" However, sometimes you need that flexibility when your plans get canceled for you. I might be willing to pay a bit more for a refundable option in the future.
Peace of mind is worth more money. In the same vein, it's no fun to agonize for days over whether your trip will take place when you could spend a bit more money for less worry. One colleague proactively canceled her Southwest flight back home and rebooked on another airline; her original flight did take off as planned, but she didn't spend her vacation worrying about it. The money spent on the new flight was worth the peace of mind.
Be prepared to be flexible. Vacations don't always work out as planned. If you can, take a flexible approach. You will be satisfied with the trip you do get rather than saddened by the experiences you missed out on should your plans change.
Have a backup plan. Many of my TPG coworkers research alternative flights, so they can be ready to rebook if their original flight gets delayed or canceled. Think ahead about what you'd do if your winter flight gets disrupted, so you can calmly make changes instead of stressing out when things go awry.
Consider travel insurance. If you are booking nonrefundable accommodations, flights, tours or other trip components, consider buying travel insurance that will reimburse you when unexpected circumstances prevent you from taking your planned trip.
Bottom line
I managed to save my winter vacation through research, proactive planning and dumb luck. My heart goes out to all the Southwest customers who lost their vacations or endured a lot of stress this December.
Whether you're an infrequent traveler or a savvy flyer, I hope the lessons I learned help you make better plans for your upcoming winter trips.
For anyone else whose vacations were disrupted by the Southwest meltdown, travelers are reporting success requesting refunds through the form I linked to above.
Additionally, check your email for this subject line: "A message from Southwest CEO Bob Jordan." It contains a code for 25,000 Rapid Rewards points — a consolation prize from the airline. I still haven't received this lucrative email, but I can't complain because I did get a wonderful vacation, despite my flight cancelation.