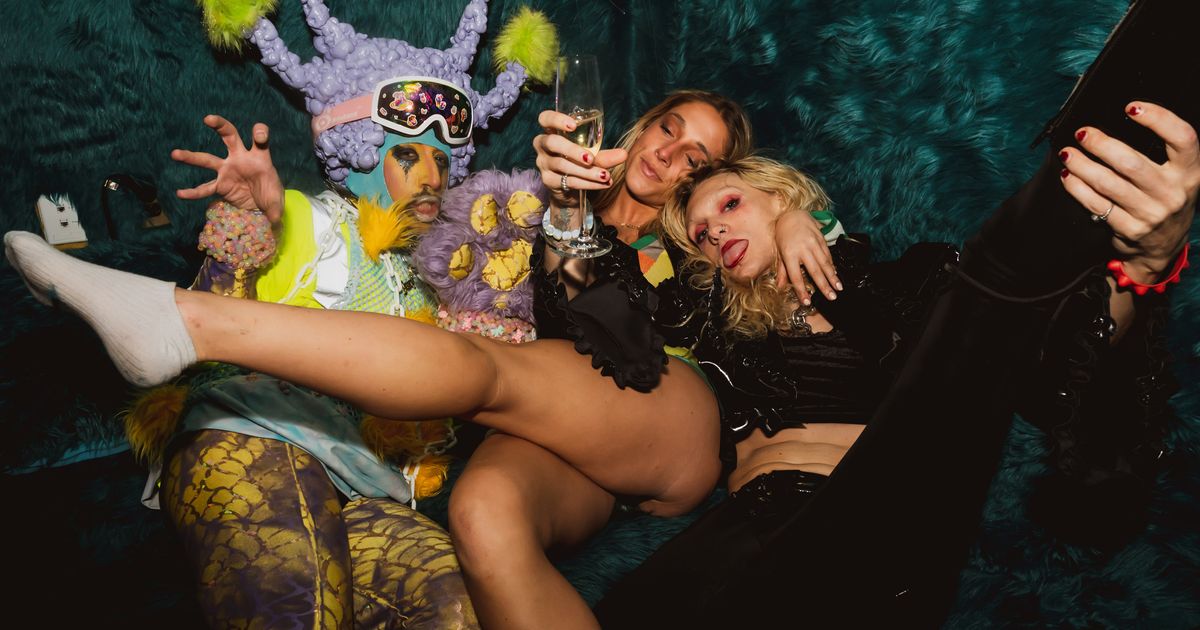 Partying at the House of X at the Public Hotel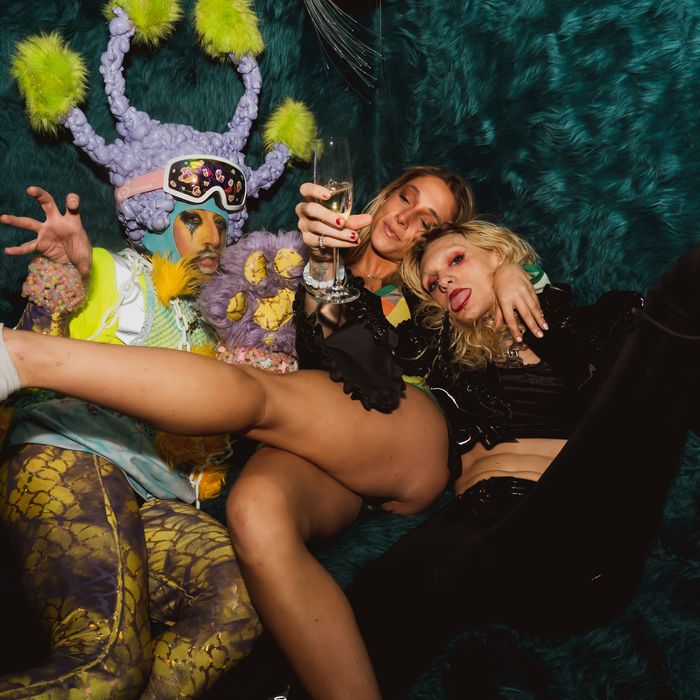 Performer M!nt Fuel in the House of X's fur room.
Photo: Elliott Ashby
When I first moved to New York with my fake ID, everyone told me I had to go to the House of Yes, a nightclub in Bushwick famous for its circusy, sparkly performers where Burning Man never has to end. I don't remember much of what happened that night beside the fact that for such a colorful place, it sure was awfully straight.
Yes was founded by artists Kae Burke and Anya Sapozhnikova back in 2007 in a "hippie-punk squat house" that threw monthly parties. Its first proper home was a former icehouse in East Williamsburg; in 2013, it moved to Bushwick. At some point, the club caught the attention of hotelier Ian Schrager, who co-founded Studio 54. In 2019, he hired Yes to put on a naughty show called the Devouring in the sleek cabaret nightclub at the Times Square Edition hotel and now has had them remake the basement of the Public Hotel on the Lower East Side into the House of X: a Manhattan alter ego to Yes's psychedelic Bushwick bohemian fever dream. And because all of you were off at your family's Thanksgiving dinners or jetting off to Miami for art parties, I thought it would be a perfect time to go check it out. On its second weekend open, it felt like a carnival for adults — trippy and funny, but still there to entertain the tragically heterosexual.
11:18 p.m. | The garden outside the Public Hotel is a total zoo, with two separate roped-off lines for the rooftop — a mostly boring, mostly straight, sit-down club ("The Roof," which I'll admit has incredible views) — and the House of X, in the basement. Some guests, including a trio of Gucci-clad white girls, seem to be confused about where to go. I direct them to the line for the rooftop.
11:29 p.m. | At the door, I meet the co-founder Kae, a short, bubbly woman with tight, blonde Orphan Annie curls and an all-black, chain-covered club 'fit. She smells like sandalwood, which makes sense. "This is our don't be a dick sign," she chirps, pointing to a board at the entrance commanding people to "BEHAVE WITH BEAUTY" and "CONNECT WITH INTENTION," a woo-woo way of asking guests not to nonconsensually grope each other once inside. She's coming from a party called Unicornicopia at Yes, with Madame Vivien V, or Viv, their resident drag queen. "It's DP night!" Kae says. "Like double penetration, but double partying."
11:31 p.m. | Down two flights of stairs is what looks like a vampire's sex dungeon, with a bar; big, red leather booths; red velvet drapes; and wall sconces, all watched over by a stage, a candelabra-adorned DJ stand, and a mezzanine — where two sculpted dancers are suspended above the crowd, twirling in the air while hooked to the railing with "shibari-inspired" ropes. At the bar, Kae orders me a cocktail called "Passion Potion," which is the exact color of your piss after a long, dehydrating weekend, but tastes like a surprisingly good Cosmo. Viv orders a shot glass of lemon juice. "I just make the face like I had alcohol," she explains, puckering her lips. "I quit drinking because it got boring."
11:45 p.m. | It's a disco party tonight, co-produced with the big name DJ Rich Medina, and I begin to suspect that some people in the crowd are old enough to remember disco firsthand. In front of the empty stage, there's an old man dancing with a cane, or maybe it was just a performer in really convincing prosthetics, and a ready-to-pop pregnant woman grooving in a sequined bodysuit. When a red-headed drag queen steps onto the floor holding a sign that says "GET YOUR ASS ON STAGE," we do just that. "We pulled her out of the gutters of Brooklyn drag," Viv says. "She owes me for her career, which isn't much."
Performer Danny Wolverton (@specialhead) on the dance floor.
Photo: Elliott Ashby
Midnight | Kae and Viv take me backstage to introduce me to the other resident talent — a motley crew of club kids in full faces of makeup; big, poofy pastel wigs; kinky leather and collars and harnesses; and, for one man, a prosthetic rat face. Whether they dance on a pole, climb chains in the air above the dance floor, or just mingle in the crowd, all of their jobs are essentially the same: up the vibes and provide some entertainment for the paying guests, like the princesses at Disney World. Viv gives me quick reads on her co-workers ("She's from the backwoods of Canada, and doesn't trust banks. True story"). For once, I have the shortest nails in the room, so I help a maybe-handsome man in a white poodle mask safety pin his furry arms back on before he heads out to work the floor.
12:19 a.m. | In a quiet corner behind the bar, I ask Viv why she's hitched her drag train to the House of Yes/X wagon. "This is a temple of expression," she says, a phrase that I will hear again and again tonight. "This is a place where you can truly be yourself … If you're operating with joy, you belong here!" All of that sounds dandy, but the big bet here seems to be whether X can maintain some of Yes's DIY postapocalyptic good-time queer-burner energy in a place as high-polish and high-priced as the Public Hotel. Viv stays hopeful, because at the end of the day, this is her job and also a training ground for her larger ambitions. Right now, she's practicing for an audition for RuPaul's, and this month she's starting a new one-woman show at Yes ("Carol Burnett meets the Daily Show, called Clusterfuck Cabaret"). She's hoping she can also convince the powers that be to let her host a new queer party at X on Sundays, called 5-HTP ("That's a vitamin you take after you do molly").
12:31 a.m. | The club is still filling up slowly, and there are lots of affluent-looking white kids in Moncler puffers, so I ask Kae how she describes their typical partygoer; she says, "They dress the fuck up," before describing her personal party "philosophy," which involves a bunch of fluffy Etsy lines about self-expression, self-discovery, and self-enlightenment. "You have to try shit, decide if you like it, and that's when you express yourself, once you discover what you accept and then you transgress," she says. In other words, it's all a playground for the normies and the beginners to (safely) experiment. "If you turn a look at another club, you're going to get safari'd. All of a sudden you're entertainment," she continues, though given the proportion of looks to no looks here tonight, that would be what would happen here too.
12:50 a.m. | The House of Yes has a "beauty parlor," where partygoers can get "glamovers," so the "punk" House of X has a tattoo station. Because I have little to no self-control, when Kae asks me if I want a tattoo, I say "yes," and when she points to a small "x" on her wrist, I say, "I'll have what she's having." One cocktail later, and I have a little "x" on my back (what spot it marks, I have no idea). When I ask the tatted-up crop-topped artist who gave it to me about his new gig, he says, "It's my normal job, just … in a club. In the club, I'm usually stripping." Newly branded, we head back into the circus.
Straight paradise.
Photo: Elliott Ashby
1:08 a.m. | On the mezzanine overlooking the dance floor, Viv introduces me to other Yes/X regulars. When I ask a tubby man in suspenders and a "birthday girl" tiara if his birthday began at midnight, he slurs, "No. Right now. This exact moment," and then for whatever reason, he touches my belly. Next up, we meet a glittery steampunk woman in a blue fascinator, who tells me about breaking into a boat for a party last night on the Newtown Creek. She seems like a good time, but when I ask why she's been partying with this crew for over a decade, she just parrots the company line: "It's about expression." Below, we watch the poodle dance on the pole he's tied to and two women dressed as lampshades known as "the Shady Ladies." The floor is packed now, but it is very, very straight — mostly 30-something hairy-chested dudes in button-down shirts and the barely dressed women who dragged them out tonight. "It's still getting its footing," Viv explains hesitantly. "Some of these people are probably just discovering a dance floor for the first time in years. I mean, judging by some of the movements." I'm told that when this same boring-normies problem happened at Yes a few years ago, they just started requiring costumes at the door. Hard to see that going over well at the Public.
1:43 a.m. | Viv and Kae take me to the "furry room," which, as it turns out, is not a room full of the poodle's friends, but a little lounge off the dance floor where the floor, ceiling, and walls are completely covered in Blue's Clues–colored fur, lorded over by a voluptuous topless drag queen in a baboon-alien prosthetic face mask. Before entering the room, we're asked to remove our shoes, which seems like a great way to lose them at the club. Sure enough, shortly after we sit down, below a frame of silicone tits, an exasperated woman in a black beret rushes into the room, yelling, "My sister just found someone on the dance floor wearing MY SHOES. She was like, 'give me the fucking shoes.' And the girl was like, 'Well, where are my shoes?' And my sister was like, 'I don't fucking know but those are not your shoes.'"
1:50 a.m. | If the dance floor is a celebration of well-groomed, well-employed heterosexual mating habits, the furry room is a quiet reprieve — a place where, as Kae says, "You can talk, sit, and do some poppers" (which we do, and Kae jokes, "I'm only killing the brain cells that make me sad"). While we lounge, Kae and Viv talk House of Yes lore, like how the original location burned down after a toaster oven lit a puppet on fire ("No one died except a cat") and how all of the employees used to go to the same therapist (Joanna) and how they almost named the club Troutwick Bushman (it used to be on Troutman Street in Bushwick) or Action Adventure (Kae came up with the name on an acid trip). The furry room has a much less interesting and drug-fueled provenance. It was originally going to be a Moroccan-themed "gold room," and then before the grand opening, they covered it in fur for "a very fancy 25-year-old's affluent private-party extravaganza" and never looked back. "The last time I was in here, the straights were fingering each other in the corner," Viv tells me. I wonder how you clean fur after that.
Performer Ann Artist dances above the crowd.
Photo: Elliott Ashby
2:22 a.m. | Back on the mezzanine, I meet an eccentric little bearded man who's attempting to use his iPhone to take a video of the dancers spinning above the crowd. He tells me he's a filmmaker, "my dear," and that he used to be a regular at Studio 54, "my darling." "I was about to go home, but I'm excited now," he says, in some unidentifiable European accent, eyeing the dancers. "It was boring, but now it's action. IT'S ACTION!" Does anything about this remind him of 54, I ask? "The lighting," he says. "It's more decadent than it used to be. But there's nothing better than anything. I live in the present. Not the past."
2:32 a.m. | Viv and Kae decide to head home for the night, so I link up with a friend, who, despite being heterosexual, is still willing to make fun of the crowd's off-the-shelf looks and "out-of-date haircuts." Outside the fur room, an employee ominously reminds us, "Don't forget about consent rules," but inside, nothing sexy is going on or seems to be threatening to. We sit down next to two baby-faced gay boys with elaborate eyeliner and sheer tops. "It's like the least-gayest queer party I've ever been to," one says before snorting a key bump. His boyfriend, in a harness, agrees: "It's bluntly not gay. Look at me: I'm the only one that looks like this. I should've gone to the actual House of Yes." Even so, they say they might come back, but only under specific circumstances. "When I'm with a white bitch who wants to go out who's visiting," one offers, and the other adds, "I'll bring my fag hags here. It's a good fag-hag spot." Right on cue, a Botoxed blonde girl interrupts our conversation to say, "I'm from Toronto and my friend wants to say hi. Alexa, show your ass," before whipping her iPhone around, where Alexa, apparently, is bare-naked, shaking her butt onscreen for us.
3:00 a.m. | At three o'clock sharp, the fur room's drag queen madam, who until now had been lounging wordlessly around the room, kicks everyone out, but the straight girl from Toronto lingers. "I'm friggin' obsessed! I want to live here. You come to New York and want to do something crazy and this is it. I've been to gay bars. But this is so interesting," she says, only to be corrected by a security guard, here to help the queen push everyone back to the dance floor. "It's not a gay club." Another, presumably straight, woman nearby overhears this and cracks, "Ohhhhhh. It's a nonbinary club." The dude she is with scoffs, saying, "Oh, God. Are we having that conversation?"
3:10 a.m. | My friend and I order another drink, but when he turns around, a bro steals his beer, and when he asks for it back, the man taunts, "It was just a joke." I start to carry my own cocktail onto the dance floor, but a woman runs into me and starts screaming, "SHE SPILLED A DRINK! SHE SPILLED A DRINK!" We decide to observe from a distance.
Time for a … Heineken?
Photo: Elliott Ashby
3:45 a.m. | By now, the only people left on the dance floor are a handful of House of X regulars, like one woman on roller skates and another with white dreads, and a smattering of straight kids, whose make-outs have multiplied. Meanwhile, I can't quit making googly eyes at a gaunt-looking vampire man in a powder-blue suit. When I introduce myself, his friend, an L.A. girl in a long-sleeved floral dress, interjects, demanding to see my Instagram before we can speak to each other. Once verified, she tells me about her time at X tonight: "It's androgynous. There's no sexism here. It's free as fuck."
4:00 a.m. | When I dance away, the vampire boy follows me. First, he tells me he's in a band, and I swoon. But then he tells me his friend is actually his fiancée, and he came over here to add one more thing about this club: "All the guys turn into creeps after three." Sure enough, when he points over to his friend group, a shirtless Lenny Kravitz look-alike is shoving another guy off a drunk girl in tight leather pants. Thinking it's probably time to get the hell out, I walk upstairs, and the first snow of the season is falling.